SMM's 9th Badminton Championship - 29th May 2022
Slough Mitra Mandal is proud to announce its 9th Badminton Championship being organized in Slough, Berkshire.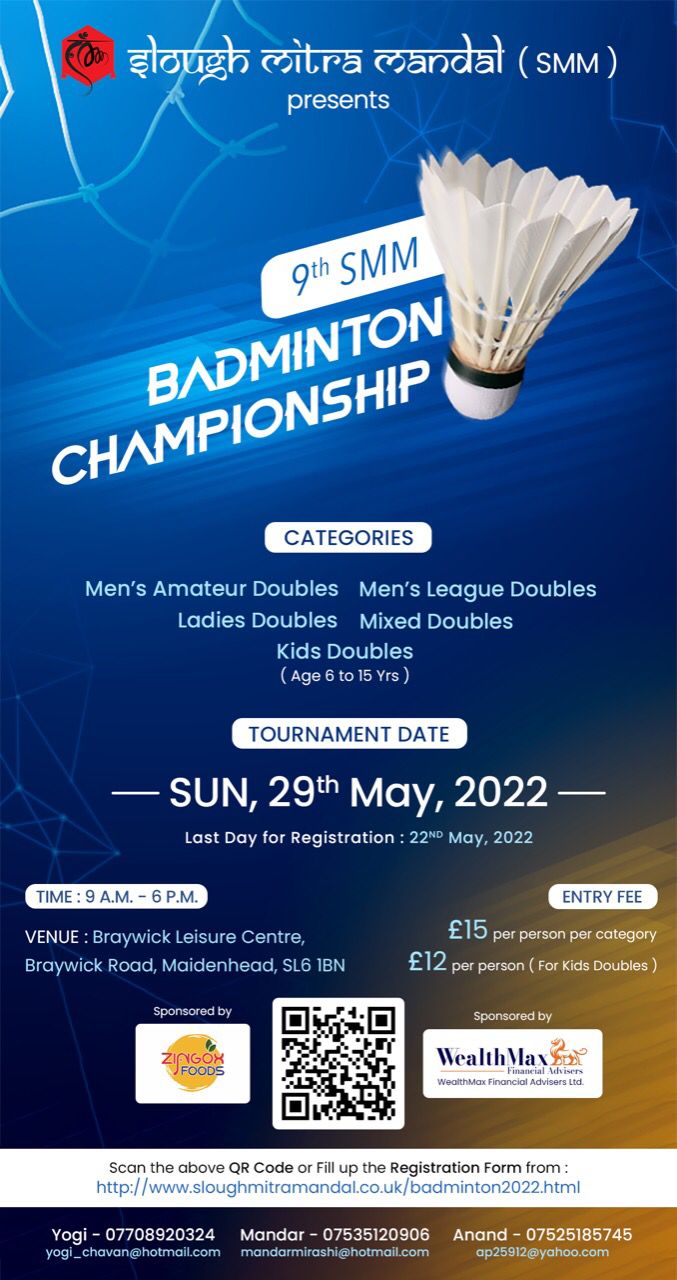 SMM's 9th Badminton Championship is being sponsored by.

WealthMax Financial Advisors
Zingox Foods
Categories:

Men's Amateur Doubles
Men's League Doubles
Ladies Doubles
Mixed Doubles
Kids Doubles (Age 6 to 15)
Venue: Braywick Leisure Center, Braywick Road, Maidenhead SL6 1BN
Tournament Date:Saturday 29th May 2022
Time: 09:00 am to 06:00 pm
Last Day for Registration: 22nd May 2022
Entry Fee:
£15 per person per category.
£12 per person per category (For kids Doubles category only)
Please do bank transfer using below Details
Account Name: Slough Mitra Mandal
Account No: 15766255
Sort Code: 23-05-80
Reference: SMMBC22-surname-category
How to register?
Please Fill in Google Form, and submit it to the
For more information Contact at:
Yogi Chavan - yogi_chavan@hotmail.com (07708 920324)
Mandar Mirashi - mandarmirashi@hotmail.com (07535120906) and
Anand Pandit - ap25912@yahoo.com (07525185745)
The championship is OPEN TO ALL!!!!