Slough Mitra Mandal's 13th Ganeshotsav
Slough Mitra Mandal is once again excited to announce the grandeur celebration of Ganpati Festival in September 2023. There will be usual Arrival Procession, Majestic Aartis, Mahaprasad, Antakshari and Other Cultural Events showcasing local talent from all age groups.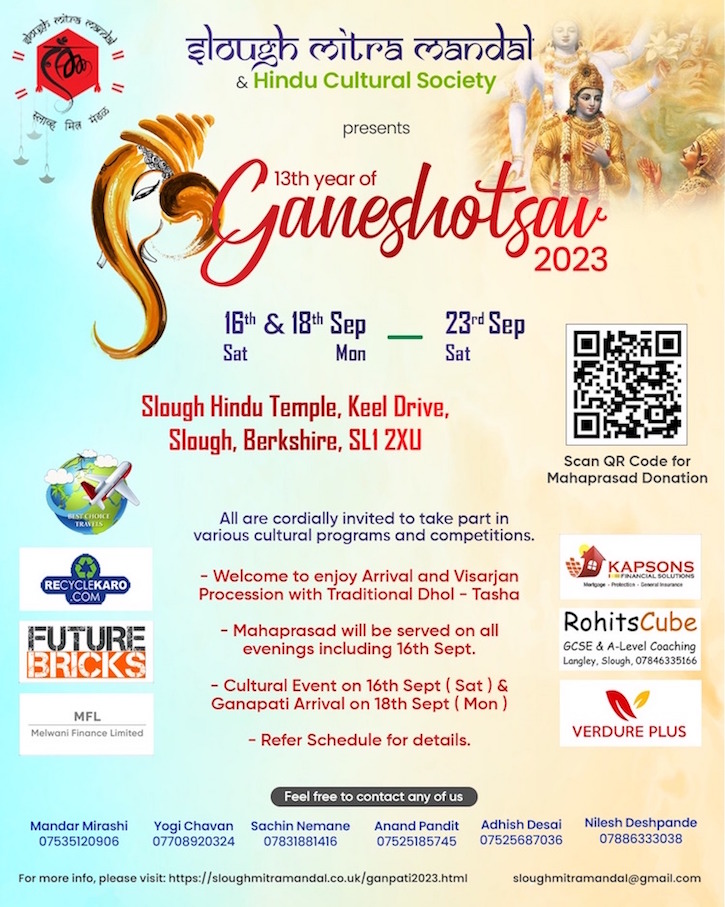 Ganesha Arrival Procession
Arrival Procession Date - Monday 18th Sept 2023 at 05.30 pm
Procession Address - Slough Hindu Temple, Keel Drive, Slough SL1 2XU

Ganesha Visarjan (Immersion) Procession
Visarjan Date - Saturday 23rd Sept 2023 05:30 pm
Visarjan Location - Jubilee River, Slough Road, A332
Nearest Post Code - SL4 6HR
How to reach at the Visarjan Site - Click Here to view the route
Parking - Note that there is very limited parking at Visarjan site. Use Slough Road for Parking (B3022)


Guidance for Participants
The following guidance for participants should be observed as directed by Slough Borough Council:
Behaviour:
All participants, and supporters associated with or accompanying the Ganesh procession, should
1. Behave with due regard for the rights, traditions and feelings of others in the vicinity.
<![if !supportLists]>2. <![endif]>Refrain from causing any damage to parked vehicles and properties.
<![if !supportLists]> 3. <![endif]>Refraim from throwing litter
<![if !supportLists]> 4. <![endif]>Obey the Highway Code while by the side of road.
<![if !supportLists]>5. <![endif]>Obey the lawful directions of Ganesh procession organisers and stewards at all times, from start to finish.
Procession Route:
The procession should be positioned on footpath or green by the side of the carriageway/road so as to allow for the free flow of traffic. Participant and supporters associated with or accompanying the public procession, should keep to the designated route as approved by the police.
Alcohol:
Alcohol should not be consumed immediately prior to, or during a public procession.
Cultural events & Competitions
See Below for details on Cultural events and competitions during Ganesh Festival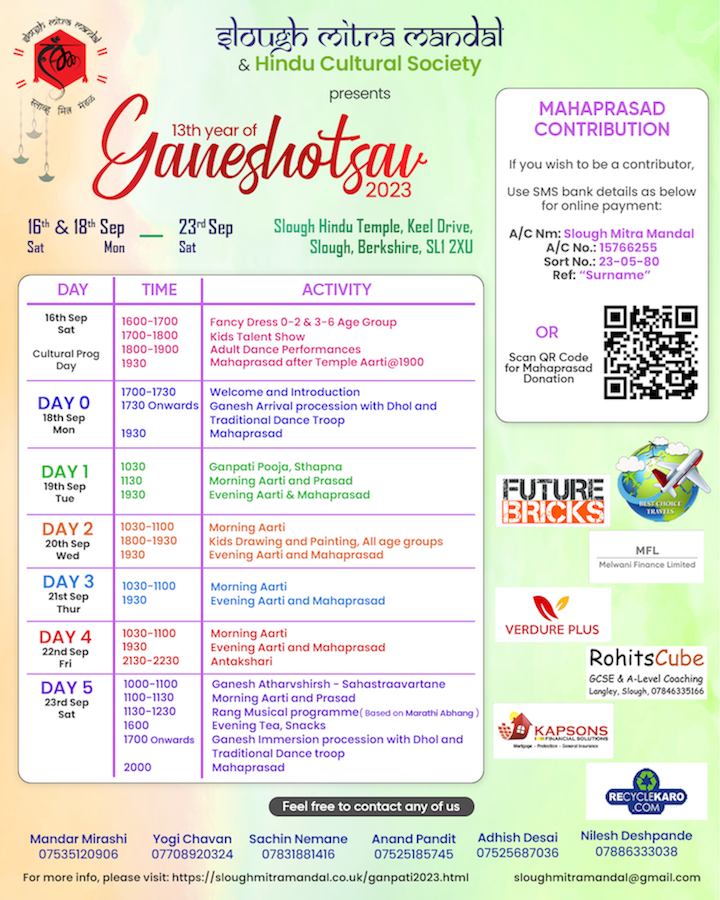 MahaPrasad and Mahaprasad Contributions details
Mahaprasad will be served on all 6 evenings of the event.
Looking at the previous year's tremendous response, during this 13th Year of Ganpati Festival, all willing Ganpati devotees have been offered an opportunity to be a "CONTRIBUTOR" for MahaPrasad/Bhojan that would be served on all 6 days in the temple (16th Sept23 – 23rd Sep23), courtesy of All the Ganesh Bhakts and Volunteers.

All you have to do is contribute a minimum of £51 only and maximum as per your wish towards the Maha-Prasad. All such contributors will be pooled together and then allocated a day each when their names will be displayed in the temple. The contribution will be collected by Slough Mitra Mandal and handed over entirely to Slough Hindu Temple.

GENERAL PRASAD will be given
The Prasad can be sponsored in any form, like – Fruits, Sugar-balls (Sakhar-Futane), Pedhas, Mithaees/Sweets, Grounded dry coconut + Sugar, Groundnuts or any food item and can be brought on-the-day.

Thank you very much in anticipation.

Any General donations can be made directly to SMM's Bank account

A/c Name: Slough Mitra Mandal
Bank: Metro Bank
A/c no: 15766255
Sort Code: 230580
Ref: "DONATE2023YourName"

Or you can pay via following link

Please do not forget to get in touch with or write an email for your recept to:
Yogesh Chavan on 07708 920324 (yogi_chavan@hotmail.com)
Anand Pandit on 07525185745 (ap25912@yahoo.com)
Contact Persons
Mandar Mirashi
07535120906

Adhish Desai
07525687036

Yogi Chavan


07708920324

Sachin Nemane
07831881416

Nilesh Deshpande


07886333038

Anand Pandit
07525185745
Schedule - Details below