Carrom Championship - 2 Feb 2019
Slough Mitra Mandal is

proud to announce

its

6th Carrom Championship being organized in Slough,

Berkshire. The championship is OPEN TO ALL!!!!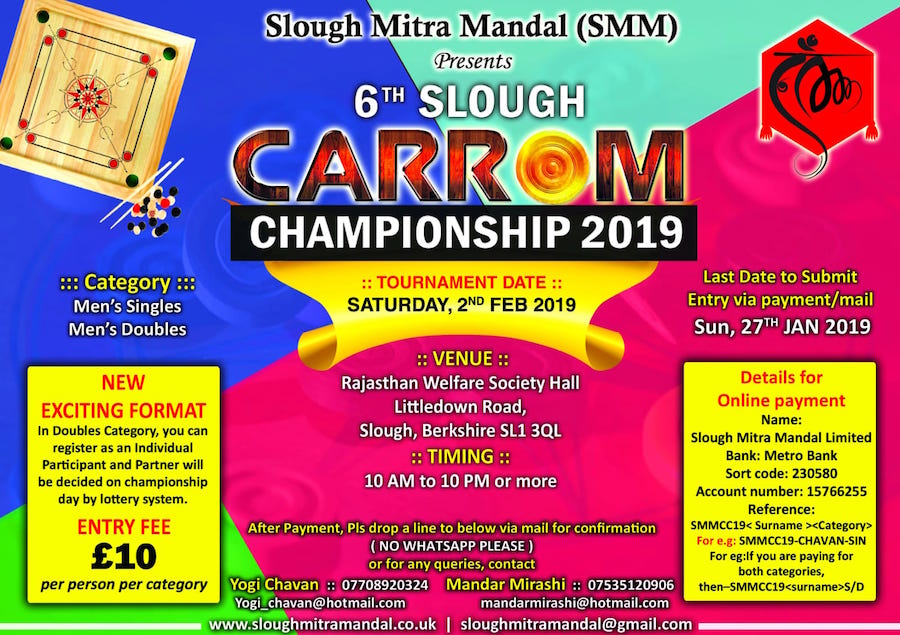 Different categories, you can select which category you best fit into.
New exciting doubles format, you can register as an individual and your doubles partner will be decided on day of tournament using lottery system.
Categories:
 Men's Singles
 Men's Doubles

Venue:
 Rajasthan Welfare Society (RWS) Hall, Littledown Road, Slough, SL1 3QL
Tournament Date:
 Saturday 2nd Feb 2019
Time:
 10:00 am to 10:00 pm or more
Last Day for Registration:
  Sunday 27th Jan 2019
Entry Fee:
£10 per person per category
How to register?
 Please make payment on SMM account details provided above and drop a line on sloughmitramandal@gmail.com
Contact for more information at:
 Yogi Chavan - yogi_chavan@hotmail.com (07708920324) and
 Mandar Mirashi - mandarmirashi@hotmail.com (07535120906)